Konka Lighting has launched a colorful series of LEDT8 lamps for the needs of the North American, European and domestic engineering lighting markets through in-depth research on different regional markets.
At present, LED lamps on the market are roughly divided into three schemes: aluminum-plastic casing, glass casing, and all-plastic casing. The aluminum-plastic casing lamp has good heat dissipation, but the cost is high, the assembly efficiency is low, and there is a safety hazard; the glass casing has good light transmission, but it is easy to be broken in the incoming, finished and shipped parts, and is not easy to transport. The cost of the all-plastic tube is low, but there are serious heat dissipation problems that directly affect the life of the lamp.
Konka colorful tube adopts the structure of built-in aluminum in the plastic shell, which effectively solves the safety problem of the aluminum-plastic housing lamp and ensures the heat dissipation performance of the product. The lamp is more durable and safer to transport.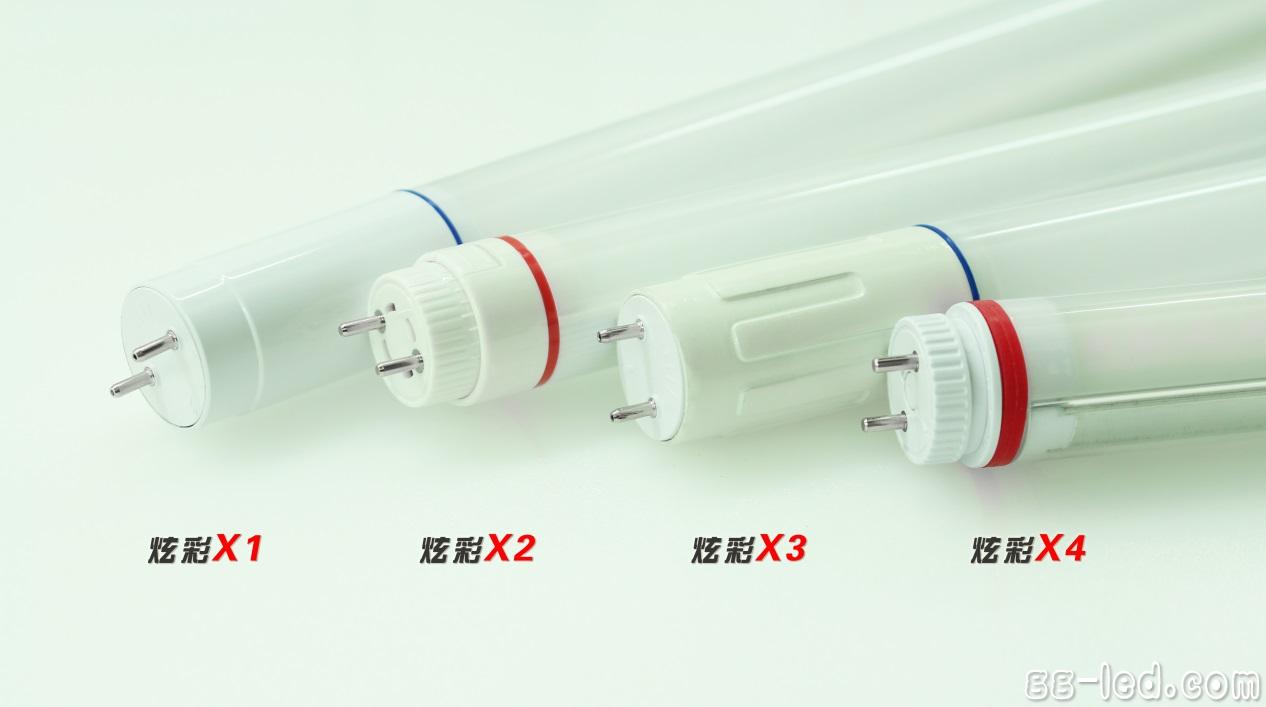 KONKA colorful series LED T8 tube
KONKA colorful T8 tube has four different appearances to choose from, the product design is elegant and chic; red, silver and blue colors can distinguish three color temperatures for easy identification; all-plastic shape structure, aluminum built-in, more safe and reliable; high performance LED light source, the highest light efficiency up to 135LM/W, double energy saving; 5-6% low THD level, current harmonic distortion is far below 15%; 40,000 hours long life, eliminating the trouble of frequent replacement; humanized design, It is easy to install with a rotatable plug. Products have passed the US UL, EU CE certification.
Konka entered the LED lighting industry in 2009 and has completed the full range of product layouts in the field of commercial lighting and independent lighting in the field of independent research and development, independent intellectual property rights. With advanced product design and exquisite craftsmanship, Konka LED lighting products are sold well both at home and abroad. In the European and American countries have achieved good reputation.

Concealed Mounted Led Panel Light includes round and square two shape frame, it has multiple type "right-angle side square light, curved side square light and round concealed mounted light. We are the manufacturer of producing energy saving interior lighting. There are three color temperatures with cool white, warm white and natural white of panel lights. Its back cover can be used by aluminum or iron material. The unique features of LED Panel Light are: CRI>80, PF>0.5. These panels are mainly apply to home, office and school, etc.
Concealed Mounted Led Panel Light
Led Recessed Panel Light,Concealed Mounted Lamp,Recessed Mounted Led Panel Light,Ceiling Led Panel Light
Jiangmen Lika Lighting Electrical Appliances Co., Ltd , https://www.lika-led.com