Core Tip : On December 12th, the Smart Industrial Technology Seminar (Shenzhen) brings together a superb luxury lineup in the industrial field waiting for you! Friends who are engaged in industrial design and development with you, pay attention to the latest developments in industry, and have industrial dreams have joined the elite lineup! Conversation giant, why don't you act yet?
If you want to enter the industrial field and show your aspirations, you will naturally have to understand the latest developments in the industrial field? Of course, we must also know what innovative technology trends are there? But who can introduce you to the door as soon as possible, show you the whole picture of intelligent industrial technology, and guide you in the way forward?
There is no doubt that what you need is a leader who really understands technology, communicates technology, and is willing to share and master advanced technology. Well, what you need to do now is to step out of the office and step into the elite circle that gathers super luxury lineups in the industrial field.
what! You do n't know where there is such a good opportunity? ! Don't worry, the Smart Industrial Technology Seminar (Shenzhen Station), which will be held on December 12th and will be built by the team of electronic enthusiasts, will be your best choice!
By then, Geng Lifeng, ARM Embedded Application Marketing Manager, Sunscale (Freescale) Microcontroller Business Development Manager, Sun Dong, Texas Instruments (TI), Yosun (YOSUN) Electronics Application Engineer Peng Hongye, RS Technology Marketing Engineer Kelvin Tse / Yan Wai, senior product engineer Wu Hongjie of Fujitsu (FUJITSU), and elites of well-known manufacturers such as WPG will take the theme of "Change the world: Understanding Smart Industrial System Design at One Time" to share the most cutting-edge industrial The concept and the most advanced product technology announce to the industry how they innovate design, lead the industry development, and help engineers change the entire world.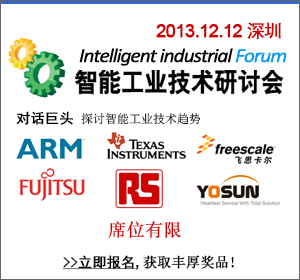 [ Click the picture, you can quickly register ]
Of course, there are many more partners who are engaged in industrial design and development with you, who are concerned about the latest developments in the industry, and who have an industrial dream in mind, have joined our super luxury industrial elite lineup. Why have you not acted yet?
If you are committed to the industrial field, this smart industrial technology seminar is definitely your must-have choice. Reasons for non-participation :
——Zero distance communication with senior industry professionals
——Full control of the most forward-looking development trends in the field of smart industry
——High-level executives from well-known industrial manufacturers interpret new opportunities for future industrial market applications
——Share with you the innovative expertise and innovative solutions in the field of smart industry
——To discuss the latest and hottest design strategies, techniques and solutions
Juxian at the end of 2013-Smart Industrial Technology Seminar: A forward-looking annual event of smart industry filled with strong technical atmosphere will be officially opened on December 12, 2013. To know the new trend of the industry in the future, you and your friends must not miss it! ! !
This activity adopts online registration. From now on, you can log on to the event website for online registration : http: //
After the applicant is approved by the organizer, the organizer will confirm the registration success by email and mobile phone message (please fill in the correct company email and phone number), and send a confirmation letter three days before the event Admission is free for business cards . Seats in the seminar are limited, sign up now and get huge prizes!
Meeting process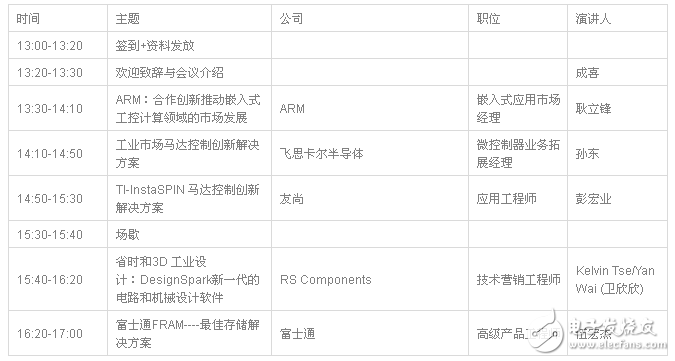 audience
If you are the following person, or you have a strong interest in this seminar, welcome to register ~~
1. Traditional industrial system designers, IoT and modern industrial system designers
2. Manufacturing and application staff of industrial control systems, such as design engineers, product managers and senior supervisors of machinery industry / manufacturing industry
3. Core technical personnel of industrial control system equipment manufacturers
4. Senior managers / decision-makers, middle managers, R & D technicians, marketing / sales of industrial enterprises
5. Emerging application researchers and market researchers such as the Internet of Things
6. Representative manufacturers of test equipment, software, IC, etc.
——Registration consultation
Contact: Qian Shanshan
phone
Email:
QQ
——Introduction of the organizer: Electronic enthusiasts
Founded in October 2006, Electronic Fever Network is an interactive community platform for electronic design engineers under the Huaqiang Electronic Network of Shenzhen Huaqiang Group, adhering to the concept of "accumulating the world 's electronic enthusiasts and serving the world 's electronic enthusiasts", and is committed to creating "full interaction, depth The community platform of leading engineers in the field of "Analysis, Leading Design" is a trusted partner of the original semiconductor communication and interactive marketing services.
——This article was originally created by the electronic enthusiast website. Welcome to reprint!
For Oil Immersed Power Transformer, we can produce voltage from 35kV to 500kV, capacity upto 460MVA. We use the best quality of raw material and advance design software to provide low noise, low losses, low partial discharge and high short-circuit impedance for power transformer.
Our power transformer are widely used in national grid, city grid, rural grid, power plant, industrial and mining enterprise, and petrochemical industry.
Power Transformer
Cast Resin Transformer,Power Transformer,Renewable Transformer,Power Transformer With Oltc
Hangzhou Qiantang River Electric Group Co., Ltd.(QRE) , https://www.qretransformer.com