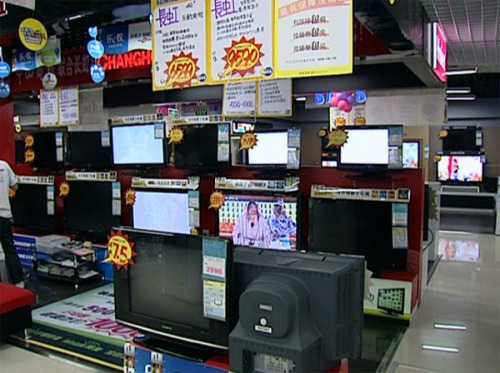 The increase in market demand and the decrease in panel supply led to the price rise of domestic LCD panels over the past four months to nearly 10 US dollars, an increase of nearly 10%. Many home TV companies feel that the pressure of profit is too great and they have to seek price reduction through color TV.
"From the price quoted in November for LCD panel makers that we just reported to us, the 32-inch panel price has risen by another 3 US dollars. The entire manufacturer must increase its price if it wants to make a profit. Color TV prices have never happened in the past 10 years. " Liu Weizhi, vice president of Skyworth Group and general manager of the color TV division told reporters on November 24th.
In the peak sales season of Golden Week from September 24 to October 7, the domestic LCD TV shipments reached 5.6 million units, of which the proportion of 32-inch LCD TVs reached 50%, which means that only the Golden Week domestic 32-inch TV panel The demand has reached nearly 3 million tablets.
Taiwan's panel makers such as Chi Mei and AUO have begun to gradually reduce the supply of 32-inch LCD panels. The panel production lines below 6 generations have begun to switch to cutting tablet PCs and smart phone panels, and the 6-generation or higher generation began to favor 29-inch and 39-inch panels. , 47-inch, 60-inch and other differentiated large-size products, which give BOE and China Star Optoelectronics a large 32-inch market space.
This is also the main reason why BOE and Huaxing Optoelectronics still use 32-inch LCD panels after they are put into production. However, BOE's 6-generation and 8th-generation wire-cut 32-inch panels have been mainly exported to Samsung, AOC, and Sony since June. Toshiba and other foreign brands, and China Star Optoelectronics also sold 25% of the panel to Samsung and other foreign brands, which makes the domestic 32-inch LCD panel supply and demand more nervous.
Wen Jianping told reporters, "Samsung and other foreign brands took a lot of 32-inch panels and inventory, which led to the Golden Week part of the mainland TV manufacturers 32-inch panel out of stock and affect sales."
At the same time, the domestic sales of 32-inch LCD TVs have also increased energy-saving benefits. It is reported that the NDRC announced in early August the second round of energy-efficient companies and product models. In the new round of energy efficiency subsidies, 1,554 new models from 22 TV manufacturers were included in the subsidy list.
The subsidy for 32-inch LCD TVs is 250-300 yuan per unit, which has caused the price of 32-inch TVs with a price of around 1800 yuan to drop by 15-20%. This has stimulated a significant increase in the sales of 32-inch LCD TVs, such as TCL and Skyworth. Brand 32-inch sales accounted for nearly 50% of sales.
Faced with the shortage of 32-inch LCD panels and price increases, Huaxing Photonics CEO Chen Liyi told this reporter that Huaxing Optoelectronics will expand its production capacity to 120,000 in the first half of next year, most of which will still cut 32 inches, while 32-inch panels will have large demand. Zeng also will allow some Taiwanese panel makers who previously gave up 32-inch panels to re-cut products of this size, so even if the color TV unit price increase is not likely to remain too long, but the 32-inch panel prices will allow Huaxing Optoelectronics to go into production in the fourth quarter. First breakeven.
We are leading of manufacturer and exporter of Candles more then 16years, Fluted Candle from 9-90g. candle size depends on yourself. Mozambique Market Candle is 55g 65g 68g. The package is Mozambique 6x50packing candle. The materials of Mozambique Fluted Candle is paraffin wax with stearic acid , or different percentage of wax to your order. Our Production Capacity is every day can finished two or more containers. Now Mozambique 55G Candle is hot sale product in Africa. customer do you own brand and logo. design is free.
The candle's advantage is Long burning time, long storage period, non-smoke, high melting point.
We already exported many containers to Mozambique. we know marker very well.
Wecome to Old and New customer to Visit our factory to discuss.
Mozambique Market Candle,Mozambique 6X50 Packing Candle,Mozambique 55G Candle ,Mozambique Fluted Candle
Shijiazhuang Zhongya Candle Co,. Ltd. , https://www.zycandlefactory.com