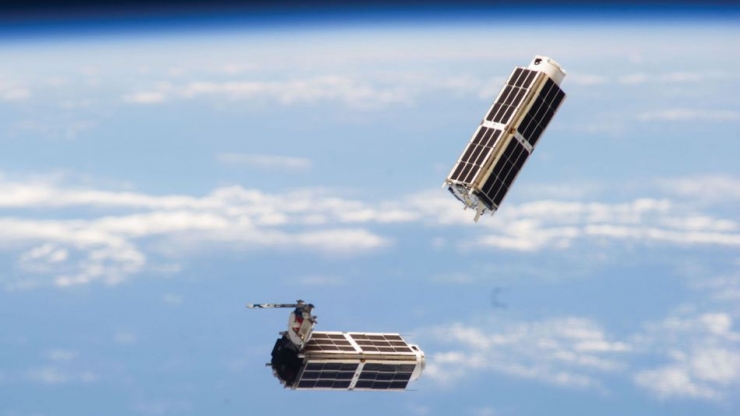 Hedge fund hunger for data has reached a hungry point.
According to the Wall Street Journal, recently, hedge funds are using a novel technology to obtain new data. Such an ultra-microsatellite, which is about the size of a shoe box, may become a secret weapon for hedge funds to acquire new data.
The so-called hedge funds refer to financial funds for the purpose of making profits after financial derivatives such as financial futures and financial options are combined with financial instruments. It is a form of investment fund that means "risk hedge funds." In order to more accurately and accurately understand the company's development trend and transaction status and make correct judgments, hedge funds have always been "very sensitive" to the data.
So, after seeing the enormous help Microsatellites may bring, hedge funds will look to the company called Planet Labs. The company launched about 60 constellations of so-called "cube satellites" that can provide satellite maps of economically sensitive areas such as retail garages, oil storage tanks, farm fields, etc., and provide higher frequencies than conventional satellites. many.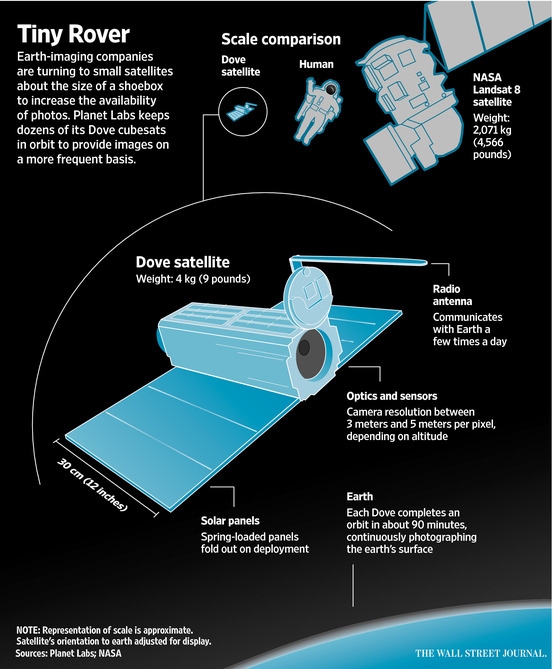 (Source: The Wall Street Journal)
According to reports from foreign media such as The Wall Street Journal, recently, Planet Labs has signed an agreement with Orbital Insight, an image analysis company founded by former Google executive Jimi Crawford. The latter will use the satellite chart to dig out transactions for hedge funds. information. Due to the high frequency of data provided by this microsatellite, this will allow Orbital Insight, its main customer, to increase the frequency of acquiring satellite maps once or twice a month to once a week. If Planet Labs re-launches 40 mini-satellites next year, the satellite's acquisition frequency may even increase further to once per day. By then, Orbital will be able to obtain real-time satellite maps of every land and day on Earth.
It is reported that the establishment of Planet Labs in less than five years was established by three former NASA scientists. Its main business model is to cooperate with satellite launchers, such as the commercial part of NASA, under the umbrella of Russia's International Space Company. Kosmotras and Musk's SpaceX send low-orbit satellites, which are only shoebox-sized, to orbit the earth, and then transmit near-real-time satellite images back to Earth. These satellite data analysis companies include investment banks, hedge funds, large traders, and even the US Department of Homeland Security and the Central Intelligence Agency (CIA) among its partners.
Orbital and other satellite intelligence analysis companies provide data clues to several large-scale hedge funds and other investment companies, and provide financial trends to customers based on analysis of automatic satellite maps, for example, predicting merchant traffic based on the number of cars parked on parking lots. , income, market share. Â 
This method of estimating business operations through traffic is one of the key scientific and technological innovations for hedge funds to understand the basic conditions of companies and the trends during the period, and to forecast leading indicators such as same-store transactions and sales. Because these data may affect investment decisions, but are not classified as "traditional information" such as market statistics and corporate earnings, they are called "special data." They are increasingly welcomed by the financial industry.
However, there are also some experts who say that this method cannot be used as a way to gain long-term reliance on industry dynamics and predict market trends. People still need an indoor scientist to perform accurate analysis.
Anyway, this way of obtaining information has brought us a new perspective. Perhaps in the future, we can predict the latest development of the industry through real-time satellite maps.
Via dailycaller
Recommended reading:
This set of devices allows the skateboard to be transformed into an "electric small motor" with a maximum speed of 22 km to take you to work

The exciting moments of these Olympic Games were shot by robots.